Automotive Fuel Filter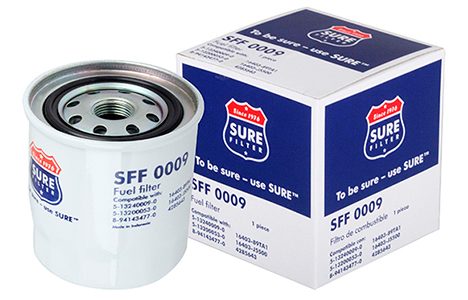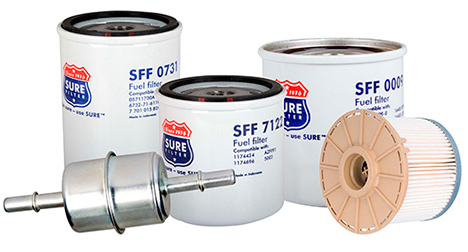 Get your vehicle to perform at its optimum level with Sure Filter® fuel filters. Sure Filter® brand filters have been helping vehicle owners around the globe since 1990s. The company that produces Sure Filter® brand has been in business for 40 years, developed a reputation for high quality, reliable products, and is one of the largest manufacturers of aftermarket filters in the world.
Sure Filter® designs and manufactures a wide range of filters, including fuel filters that are used in wide variety of applications, oil filters, air filters, hydraulic filters and more all designed to help customers increase the efficiency and effectiveness of their vehicles and machines. Sure Filter® fuel filters screen out dirt and other particles from a vehicle's fuel. Modern vehicles are not very tolerant of contaminated fuel. Paint chips or pieces of rust from inside a fuel tank need to be removed before they enter a vehicle's fuel system, otherwise, the fuel pump and injectors can become damaged.
Corrosion of a fuel tank is a common cause of contamination, but the most common cause is moisture in the tank. Dirt and other debris can also get into a fuel system from dirty filler caps or funnels. Contaminated fuel can do some serious damage to a fuel system and an engine. Holes in fuel tanks and bad fuel injectors are common results from bad fuel.
Sure Filter® fuel filters, like other filtration devices that the company manufactures, are made in accordance with DIN, JIS, and SAE standards. All of the company's products are designed and manufactured to meet or exceed the highest automotive industry standards. All filters are tested to ensure that they hold up to efficiency and life expectancy standards as well.
What separates Sure Filter® brand products from others are several design features that allow the company's filters to perform at maximum efficiency and last. To effectively filter fuel, for example, Sure Filter® uses high performance media that ensures the free flow of fuel through the filter at all times. Other design features like steel tension springs, anti-drain back valves, and square seal gaskets make Sure Filter® brand products protect customers' engines and machines and increase their lifespans.
The most cost effective method of retaining a vehicle's engine performance is providing it with the highest quality fuel filter. When you need to be sure, choose Sure Filter® brand fuel filters.